Heliopause Productions is proud to present: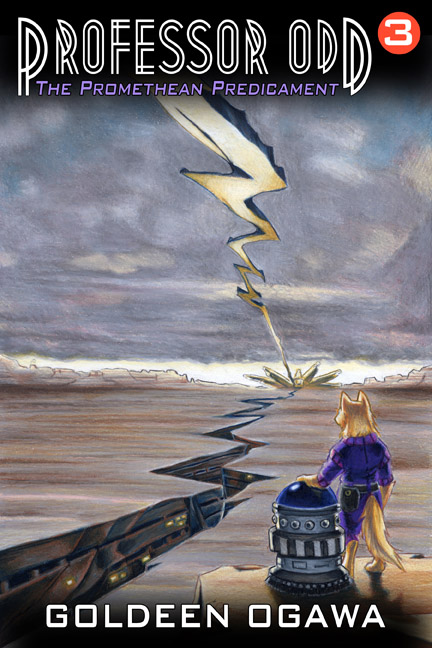 Professor Odd #3: The Promethean Predicament
FICTION>Science Fiction>Action/Adventure
FICTION>Fantasy>General
Author suggests suitability for readers ages 10 and up
Compare with Doctor Who, Star Trek, Bill Nye the Science Guy
eBook available from: Amazon Kindle, NOOK, Kobo, iTunes
Paperback avilable from: Amazon (US and Europe) and direct via Create Space
Description:
Meet Alister Bane, former college student. He is a sensible, conventional, practical young man. Not at all the sort of person you'd expect to find clambering around, in the rain, on a huge stone lightning bolt hanging in the sky. Yet here he is. Since being expelled from his home world, Alister has been traveling between universes with the flamboyant and inquisitive Professor Odd, Dave, a green tentacle monster, and Elo, a highly intelligent mutant wolf. Now, however, he has been separated from his friends and is forced to navigate an "unconventional" universe teetering on the brink of destruction. Impossible stone formations aside, there is also the problem of the sinister hooded natives, and why they have got a living man chained to a rock…

 "The Promethean Predicament" is the third in a series of novellas chronicling the fantastic travels of Professor Odd and her wayward companions. It first appeared in Apsis Fiction Volume 1, Issue 1: Mesohelion 2013.
Available internationally from: Amazon Kindle, NOOK, Kobo, iTunes
Available in print from:  Amazon (US and Europe) and direct via Create Space
More Professor Odd…