Year of the God-Fox is a fantasy manga-inspired online comic written and illustrated by Goldeen Ogawa.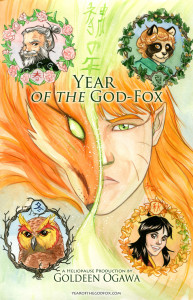 Year of the God-Fox consists of four books, each containing four to six chapters. The chapters for Book 1: Summer were posted over the course of July and August 2013, Book 2: Autumn was released during October and November 2013, with Book 3: Winter in January and Book 4: Spring in April 2014.
It can be read online at www.yearofthegodfox.com. You may also follow its official Tumblr blog, Twitter account and Facebook page for news and updates.